Foundation Supportworks by Tar Heel Service Area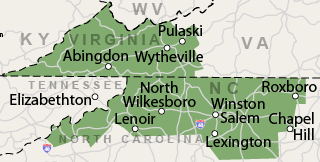 Tar Heel Basement Systems encapsulates crawl spaces, dries basements, and installs sump pump systems from the North Carolina High Country to Winston Salem and parts of southwest Virginia.
They offer Free Estimates to homeowners in the entire area. Each Free Estimate includes an on-site inspection and consultation, a custom-designed solution for your unique foundation problem.
If your area is not in the service area on the map or listed above, please visit the Foundation Supportworks National Headquarters website and fill out the online form. Your local dealer will contact you about your free foundation repair estimate.
Carter, TN
Biltmore, Laurel Fork
Sullivan, TN
Bloomingdale, Piney Flats